There is only one thing worse than the feeling that comes with a blaring alarm first thing in the morning, signaling that it's time to crawl out from the heavenly comforts of bed and pull yourself together enough to go to work. It's that point at which you look out your window and realize it's raining cats and dogs. And miraculously, you all of a sudden have nothing to wear.
No one wants to be that lady who shows up to work drenched and un-chic. It's not a stylish look, no matter how wet it is outside. That being said, no one wants to walk into the office clad in a matching rain slicker and hat either (it totally ruins your "I'm a fashionable woman who knows how to dress myself" look, no?).
The best rain gear in my closet keeps me protected from the elements while also being totally appropriate for the dry weather (a.k.a. it doesn't scream "I'm waterproof!"). Scroll through our tried-and-true wet-weather favorites—we promise they will make it easier to get out of bed on those dreary gray-skied mornings.
Invest in a trench. A great trench will carry you through all four seasons, and looks chic at any age. Try to find one with a bit of a coating to repel the heavy raindrops, but if you fall in love with one that doesn't fit the bill, give it a light coating of your own with a waterproof spray can from your local dry cleaner or shoe repair!
Or be bold and find a trench alternative. We love a good trench, but sometimes it's more fun to reach for something a little less classic. Whether it's a trench in a different shape or color or another silhouette completely, don't let the rain get you down. Fake it in the rain and make sure everyone around you thinks you're having an easier time staying chic and dry than you actually may be!
Top it off with a hat. It's perfect for all types of rain. When it's only drizzling, a brimmed hat may be all you need to shield you from the rain, while a hat is the belt to your suspenders when an umbrella doesn't quite do the trick in a complete monsoon. Either way, the hat doesn't have to be rubber or coated—you'd be surprised at how effective a hat of any fabric is.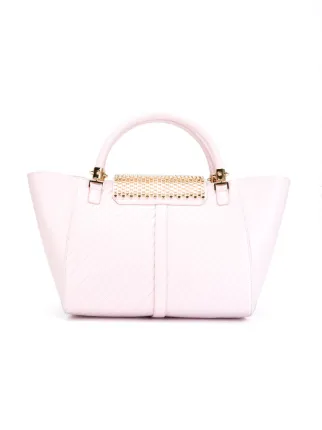 Everyone needs a durable carry-all tote. It can be canvas, nylon, something in between — it doesn't have to fully water-repellant, but it shouldn't shrivel at the first drop of moisture. The trick is to find a tote that not only holds all your miscellaneous necessities but also holds your actual handbag. That way, when the rain stops, and you want to pull out your leather pride-and-joy, you're good to go!
Good old-fashioned rain boots are magical. We can't finish this post without a special shout-out to knee-high rain boots, though they are most definitely shoes created solely for the wet weather. We don't suggest you whip them out on a totally dry day, but no one is going to fault you for rocking a pair of classic rain boots when the sky suggests less-than-stellar weather. Try some shorter ankle-bootie styles to better transition from rain to shine!