5 EASY WAYS TO DRESS UP YOUR BASIC WHITE TEE
It's one of the major go-to pieces in your closet because it is versatile, comfortable, and easy to work with. Give your classic white tee some love and and drss up your closet's most underrated item.
Keep it Tailored
Who ever said that a white tee can only be worn on casual events? Elevate your trusty tee to a comfy office staple that is sure to turn heads. A nice tailored blazer puts the look together and balances the soft structure of the white tee. Pair it with your favorite pants and stilletos and you're good to go!
Travel Ready
Travel wear is supposed to be comfortable, hassle free, and versatile; very synonymous to your fave white tee right? A basic white tee is perfect for traveling around in ease because of its light and soft structure. Never underestimate the powers of a solid vacation look. Pair it whith chic shorts and complement it with your favorite strappy sandals and body bag for a true funtion + fashion combo.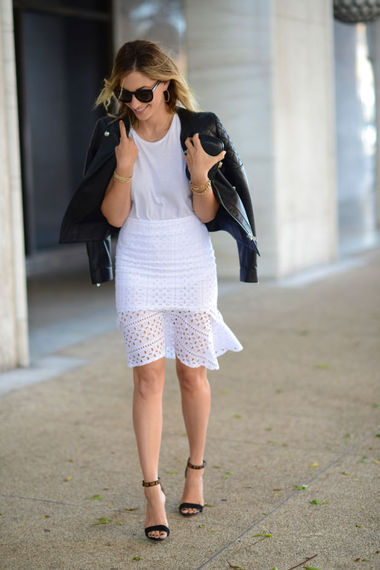 Out and About
A white tee can be a great option even for cocktail events or nights out, but how? Pair the it with a nice feminine skirt to complement the soft and airy vibe of the shirt. Add your favorite structured jacket or blazer and some sky high stilletos and you're off for a fun night.
90s Comeback
We all know how the 90s era is making a solid fashion comeback today. Join the bandwagon and cop this chic look with your favorite white tee. Layer over your favorite slip dress and release that inner 90s goddess.
Keep it Classy
It may seem impossible for a very casual piece to work with a well tailored midi skirt but boy, the basic white tee is an exception. Perfect for almost any occasion you can think off, this look will surely take you places. How about brunch in Rome? Date night in Italy? or even just a simple business meeting in Makati--this look is sure to deliver. The minimal clutch and high heels add the perfect mix of casual class and feminine sophistication.
---